Bushy-backed Nudibranch (Dendronotus frondosus)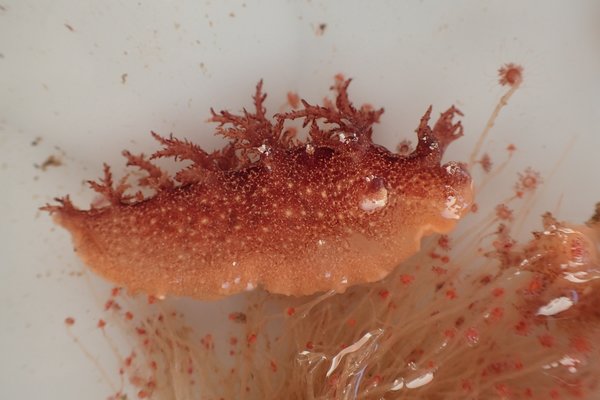 Bushy-backed Nudibranch (Dendronotus frondosus)
Common name: bushy-backed nudibranch
Scientific name: Dendronotus frondosus
Locations: undersides of large rocks in lower intertidal
Seasonality: available year round
Colors: orange and red
Size: 1" - 2"
Collected: by hand - pull them off rocks
Quantity: sold by the each
Tidepool Tim says, "This pretty little creature is a sea slug! The color displayed by nudibranchs - and they do exist in every color - is for defense. Some have stingers and toxin, and the bright colors warn other creatures of it. Even the nontoxic slugs ward away pests by mimicking the bright colors of a toxic slug. This strategy is called aposematic coloring. Not all brightly colored animals are dangerous, but we tend to avoid them."