Gulf of Maine Tide Pool Study Kit (30 Species)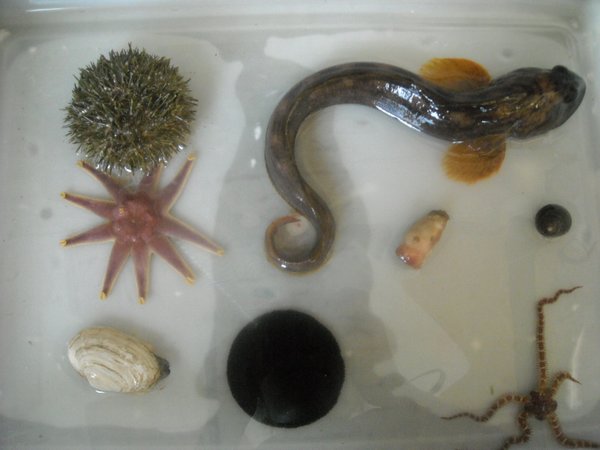 Gulf of Maine Tide Pool Study Kit (30 Species)
Bring marine life alive in your classroom. Hand collected by Tidepool Tim. This kit is a thrilling and educational classroom experience. A pamphlet with small diagrams and species names will be included for identification.
The Gulf of Maine Tide Pool Study Kit (30 Species) includes:
Red chiton
Irish moss
Orange-footed sea cucumber
Bent mysid shrimp
Finger sponge
Green sea urchin
Acadian hermit crab
Bushy sea fern
Twelve scaled worm
Hollow green weed
Soft shelled clam
Sandworm
Sea vase
Tortoiseshell limpet
Green crab
Sea lettuce
Encrusting algea
Bladderwrack
Scud
Knotted wrack
Sand dollar
Dulse
Sea colander
Blue mussel
Waved whelk
Horsetail kelp
Common periwinkle
Frilled anemone
Rock barnacle
Northern lampshell
Bushy-backed nudibranch
Tidepool Tim says, "When I go out to collect creatures for study kits - I will throw in a few 'catch of the day' species! These are live creatures, so variation in species (and the number of each) is the nature of building these collections."
If live creatures are not feasible for your classroom, or you'd like to keep the creatures for future classes, this kit can become a collection of preserved marine life that you can use in the classroom or lab whenever you need them. You cannot always use live organisms as they require some planning and upkeep. Once you have a set of these in your display case or in the storeroom they will last for years and be available for student or teaching uses. The specimens have been individually packed in clear plastic jars for easy viewing of key characteristics. Preserved in seawater formalin solutions. Comes with MSDS."