Spaghetti Worm (Amphitrite spp.)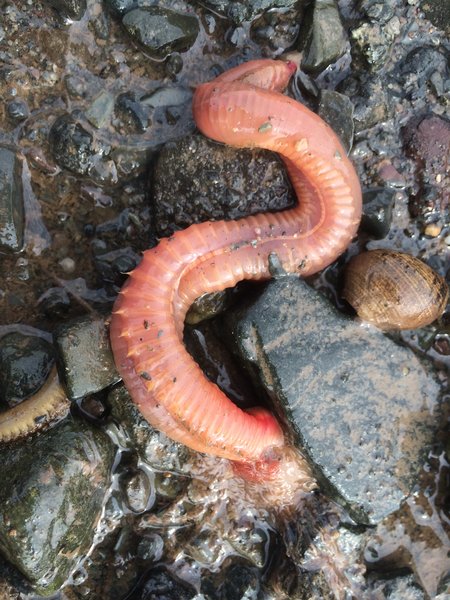 Spaghetti Worm (Amphitrite spp.)
Common name: spaghetti worm
Scientific name: Amphitrite spp.
Locations: mid to low tide in mixed mud and rocky substrate
Seasonality: available all year
Colors: pale peach and red colors
Size: 2" - 6"
Collected: by hand, digging fork
Quantity: sold by the each
Tidepool Tim says, "For a long time I dug for spaghetti worms without realizing where their bodies are relative to their castings and feeding holes. Spaghetti worms live in super slimy tube burrows. They have a U-shaped burrow with the mouth at one end and their anus at the other end. The appearance of the front end of the worm gives it its name. Looking at the head you will see a bunch of red and tan colored tentacles stretching out of its burrow. The reddish tentacles are used for respiration. The whitish or tan tentacles are used for feeding.
The worm lives in a burrow for protection. Only the feeding tentacles come up above the bottom. They stretch out in a radius around the burrow and they pick up food particles, plankton, detritus - this is all reeled back into the mouth as a food source. So imagine a worm that is named for the red (tomato sauce) and the tan (pasta) tentacles. Spaghetti worms are a very versatile lab specimen. You can keep them in a small tub of salt water without any aeration in a fridge for weeks. Some of our customers use these as a food source for anemones and fish."